Rock Hill's Come•See•Me Festival brings the community together every spring.
Rock Hill's Come•See•Me continues to grow and attract visitors from places far outside York County.  The annual Festival has been ranked in the South's Top 20 Spring Festivals.
Originally the Come•See•Me Festival gave the City of Rock Hill an opportunity to showcase Glencairn Garden.  The mayor at the time, "Icky" Albright, had an idea that the camellias, dogwoods, wisteria, flower beds, ponds surrounding spectacular azaleas in the city park would attract visitors to the Rock Hill.  He was right.
The first festival in 1962 grew from a weekend event to a 10-day extravaganza in 2018 that included a parade, food trucks, craft beers, concerts, races, a tea party, frog jumping contest and fireworks show.  Most of the events were free and very family friendly.
I've attended dozens of Come•See•Me Parades, which was once known as the Doo•Dah Parade and neighborhood groups would come together in hilarious outfits/themes to the delight of onlookers. As the Festival matured more Rock Hill businesses like Comporium Communications (once known as the Rock Hill Telephone Company), the local radio station WHRI, and the newspaper The Herald, along with other local companies, got into the Festival spirit and now the parade showcases a wonderful cross-section of our community.
While enjoying the parade at Fountain Park which is located on Main and Black Street, in Old Town Rock Hill I sat next to an older gentleman wearing a Vietnam Veteran cap.  While were were waiting for the Come•See•Me frog mascots, Glen and Glenda to appear in their vintage convertible I introduced myself.  His name was Bill.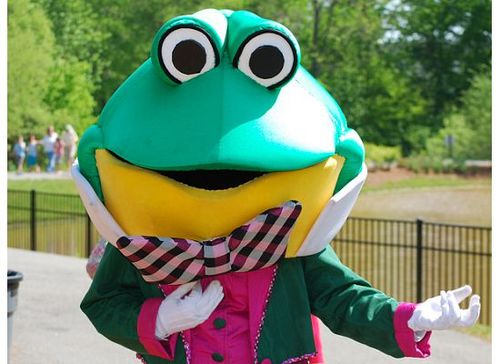 I often ask Vets about their service because my brother served in the U.S. Navy on a mine-sweeper in Vietnam in the mid-60's.  He lost his life a few months into his tour of duty at the age of 26.  It's hard for me to conceptualize my brother in his 70's now.  Also, because I know so many of the men and women who served in Vietnam had a rough homecoming – very different for the kind our military personnel experience now after serving our country – I want to honor them whenever I have the opportunity.
I was delighted to learn that he and his wife had just moved to a Rock Hill apartment on Main Street just 10 days earlier.  They sold their home in Cape Cod, Massachusetts were relocating and building a new home in Indian Land, South Carolina.  He had served in the Army as an MP for five years, doing one tour in Vietnam.  After leaving the Army he became a police officer in Cape Cod where he retired with his wife of many years and they decided to start a new life in South Carolina.
I was surprised to learn they didn't have any children, or any relatives for that matter, in the area.  They picked York County to spend the rest of their days because a friend had told them it was a great place to live, the cost of living and housing was affordable and they liked the idea of milder winters.
Once I realized that Bill and his wife were newcomers to the area I took it upon myself to narrate the Come•See•Me Parade for them, explaining why someone from the Ebenezer Grill would be dressed up in a hot dog suit, and pointing out the local dignitaries and prominent citizens like realtor, Stephen Cooley dressed as Prince and why the Clemson Tiger and Cocky seemed to be picking on one another.
When the Northwestern High School Band played as they marched by and the Rock Hill Fire Department truck drove by with the siren blaring, Bill commented that our little Come•See•Me Parade was truly a picture of small town living and he and his wife were enjoying the beautiful spring evening on Main Street in Rock Hill.
Near the end of the community parade our local chapter of the Rolling Thunder motorcycle organization drove by with their POW/MIA flags proudly displayed.  Bill quickly came to his feet and saluted the group of riders as they rolled by.  A couple of the bike riders spotted Bill in the crowd and I heard one of them shout out to Bill, "Welcome Home!"
I couldn't help getting tears in my eyes.  I was proud of the City of Rock Hill and of Come•See•Me Festival.  It's true, I live in a great community, life is affordable and the winters are mild compared to other parts of the country.